How To Compare A Pages Version History in the Episerver Editor
Wed 18 November, 2015 / By Jon D Jones
Episerver like all good CMS systems will save a version of your page every time you change and save it.  This version management is useful for several reasons:
If you need your content to be approved by a manager, or, a compliance team, they can compare your changes to the previous version to figure out if your changes should be published onto the website.
If you need to legal prove what content was displayed on your websites and on what dates.
If you need to revert your page information to a previous state.
Having version management means that you never have to worry about losing any of your changes, as all old versions of the page are saved to the history. In Episerver there are two ways to looks at a page's history. Option One The quick version is to use the 'Compare Versions' button in the top editor menu:
To open the page comparison tool, find the page that you want to compare in the navigation panel, click on it.  After the page loads in the main display panel, click the 'Compare Versions' button as indicated in the screenshot above.  This will load the comparison tool.  If your page has only one revision, you will see a warning message.  If your pages have any revisions, then the tool will display the current version of the page and the last saved version of the page.  Any differences will be highlighted for you to see. Option Two The second option to compare versions is in the 'Version' panel.  By default, this panel is disabled by default so the first thing you will need to do is enable it.
Find the page that you want to compare in the navigation panel, click on it. At the top of the navigation panel, click the settings icon button.  This will load the gadgets properties screen, click the 'Add Gadgets' option.
From the 'Gadgets' dialogue.  Select 'Content' from the left-hand panel and then select 'Versions'
At the bottom Navigation Panel, you should now see a tab called 'Versions' that lists the currently selected page's history.  Clicking on this will load that version of the page within the main panel.  If you want to revert your page to a previous state, in the top right-hand publish section: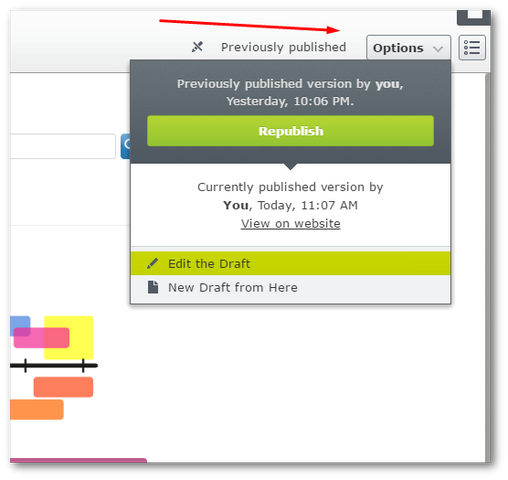 Click the 'Options' drop down and you should see a big green 'Republish' button.  Click on this to revert the page back to its previous state.    
---