How To Delete and Restore a Page in the Umbraco Backend
Sun 11 December, 2016 / By Jon D Jones
Sometimes, simply unpublishing a page within Umbraco isn't enough. If you know you will never need the contents of a page again then there's not much point in keeping it anymore.   Umbraco can work with hundreds of pages, but, as a general for any CMS system, it will be more performant if you can keep your pages to a minimum. Deleting a page within the Umbraco backend is really simple, find the page that you want to delete in the navigation explorer and right-click on it to open up the page properties dialog: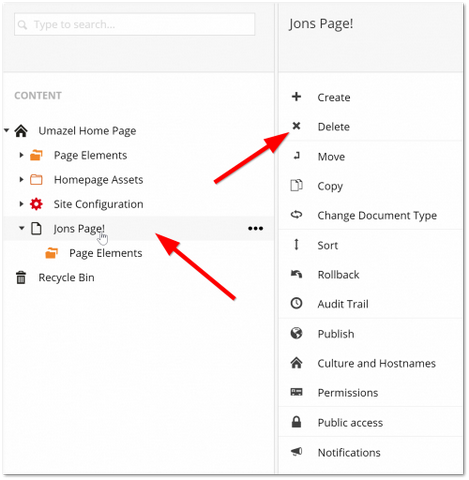 From the page properties menu, select 'Delete'.
Confirm you want to delete a page and presto,  it's gone!
Restoring A Page
If you decide that deleting a page was a massive mistake, then you still have hope.  Like Windows, the pages you delete get sent to the Recycle Bin.  Until you clear the bin, your deleted pages can still be restored.  You can access the recycle bin from the navigation explorer:
In the recycle bin you can see a list of all the pages you have deleted.  To restore a page, find the page you wish to restore in the Trash, you can either do this manually or by using the search feature and click on it:

In the 'Actions' dialog, in the top right-hand side of the page.  Select the 'Restore' button and your web page will now be restored into Umbraco.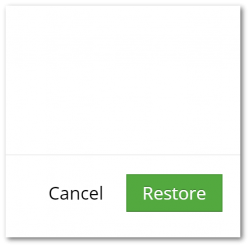 On the left-hand properties panel, you will see a confirmation 'Restore' button, click it and your page will be back in your Umbraco navigation explorer.
Emptying the Recycle Bin
If you no longer require any of the content within the Recycle Bin you can delete it permanently. You can either delete pages on a per-request basis or you can completely clean the whole bin in one go.
If you want to delete everything from the recycle bin, right-click on the 'Recycle Bin' to load the Recycle bin's property menu.  Click the 'Empty Trash' button.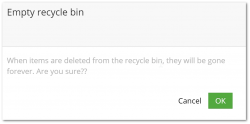 Confirm your choice and the recycle bin will be emptied.  Remember, like Windows, when you clear the trash that page will be gone forever.
---