How To Publish Content Within The Umbraco Backend
Sat 10 December, 2016 / By Jon D Jones
After you have created a page within Umbraco, there are several options available to you to help you manage your content.  This post will help you understand these options and how to use them Saving Just like a Word document, you can save your pages so you don't lose your work.  Saving a page won't make the page appear on your website.  The Save button is great for pages that you're still in the process of editing and you don't want to display on your website, just yet.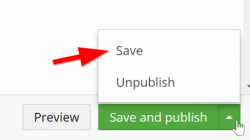 Saving should be a pretty obvious process, at the bottom of the main page editing panel there's a big green 'Save and publish' button.  Click the arrow on the right-hand side and click the 'Save' option. Another useful thing to note here, is the 'Preview' button.  Clicking on this will show you how the page will look on your website. Publishing When your page is ready to be displayed on your website, you will need to publish it.   Publish is the process of making a page appear on your website immediately.  Like the save button, the publishing button is on the bottom right-hand side of the page's main content panel.
Clicking the 'Save and Publish' button will instantly publish it to your website. Scheduled Publishing Scheduled publishing is ideal when you need a page, or some changes to go live at a specific date in the future.  One very common example of this is press releases.  Most companies will want to get the page ready in Umbraco before it's deadline date and then get Umbraco to automatically publish the article when it's ready.  This might be 9am a Monday or 2am on a Friday.   Scheduling content in Umbraco is fairly easy.
To schedule a page you need to set it's 'Publish at' date.  You can access this through the 'Properties' tab.
Clicking within the 'Publish at' bow will launch the date picker.  In here you can set the date.  If you want to know how to set the 'clock' icon at the bottom of the date picker.
To set the time, click the clock icon.  After setting the scheduled date, you can then publish your page as normal.  When the date/time comes Umbraco will then publish your page for you, you can sit back and let Umbraco do the hard work for you.  Umbraco will now automatically publish the page at the date and the time you chose.
---