How to Undo Page Changes in the Umbraco Backend With Page Revisions
Tue 13 December, 2016 / By Jon D Jones
Umbraco will save a version of your page every time you make a change and save it.  This version management is useful for several reasons:
If you need to legally prove what content was displayed on your websites and on what dates
If you made a mistake and need to revert the information to a previous version
Having version management means that you never have to worry about  losing any of your changes, as all old versions of the page are saved to the history.  In Umbraco, if you right-click on a page it's action dialog will load, as seen below.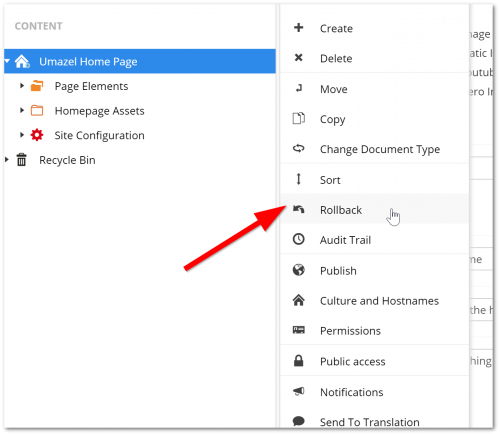 From here, you should see the 'Rollback' option, click on it.
The rollback screen is fairly simple.  At the top of the page, you have a dropdown that shows you all the different revisions Umbraco has saved.  I always tend to use the 'Diff' option.  This option will highlight in green/red the changes that have been made compared to the current version.  In the example above, the Main Title text has changed which is why it's highlighted. After you are happy with your new changes, click the green 'Rollback' button at the bottom of the page.

A confirmation message should display.  After you have rolled back to a previous version, don't forget to 'Save and Publish'
---