How To Unpublish a Page In The Umbraco Backend
Sat 10 December, 2016 / By Jon D Jones
After you create and publish an Umbraco page you may want to unpublish it. There are many reasons for wanting to unpublish a page; a news item is out of date, a product is out of stock etc… Like publishing pages, you have two main options for unpublishing content. The first is immediate and the second is thro,/h3ugh scheduling.
Unpublish A Page Immediately
As long as your page is published and live, you can use the 'Save and Publish' button at the bottom of the page.  When you click on the display more arrow to the right of the button, you should now see an 'Unpublish' option.  Clicking on that will unpublish the page.
Scheduling A Page To Be Unpublished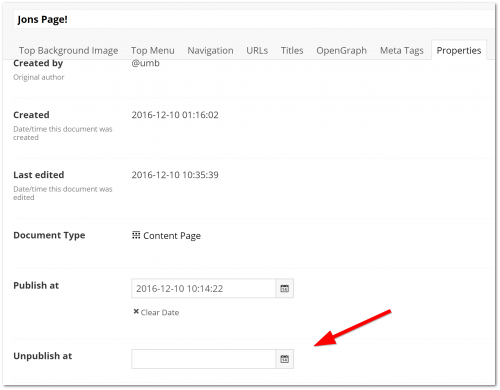 The other option is the 'Unpublish at' option, in the 'Properties' tab, this will schedule your page to be unpublished.
Clicking within the 'Unpublish at' box will load the date picker
---