Get Up And Running With A FREE Trial Umbraco Cloud License In Less Than 10 Minutes!
Thu 15 December, 2016 / By Jon D Jones
In today's guide, I'm going to walk you through the process of creating a demo website with Umbraco cloud. The process is very easy and should only take you about 10 minutes. First, you'll need to sign-up for an account over at Umbraco, here.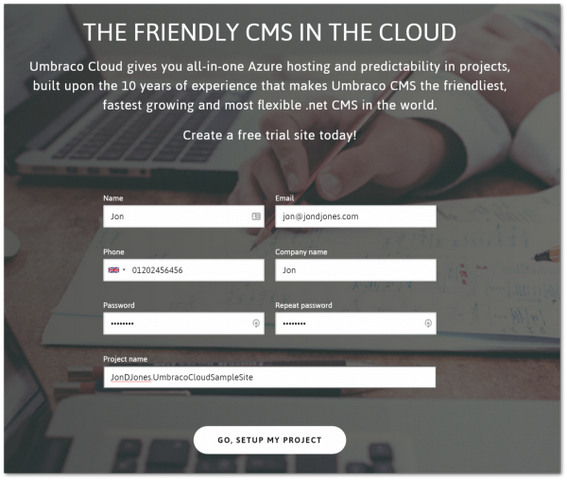 Add in your details, NO CREDIT CARD REQUIRED, click 'Go, Setup My Project' and you will have an Umbraco Cloud account created for you!
Sign in using the email and password you created in 'Step One' and you'll be logged into your Umbraco website hosted in the cloud. It really couldn't be much simpler!
After you log-in, the first thing you'll see is a new dashboard. This dashboard allows you to manage your Umbraco Cloud account. The first thing you'll probably want to do is download your project from GIT so you can start developing against it.
Click the 'Local' icon and you'll be presented with three options, 'Use Visual Studio', 'Use Grunt or Gulp', or 'Connect with GIT'. As I use GIT a lot and it's pretty easy to use, this is the option I'd recommend for you.
When you click on the 'GIT' option, you'll be given a URL to your GIT repository. If you haven't used GIT before, then I suggest you download SourceTree as it's much easier to use compared to the command prompt. I won't cover the details of how to clone a GIT repository, but, by cloning, you'll get your Cloud files downloaded to your PC
You can then open your repository from Visual Studio, make your changes and then push them back up to the cloud via GIT. When you push your changes back into the Cloud, it will be published!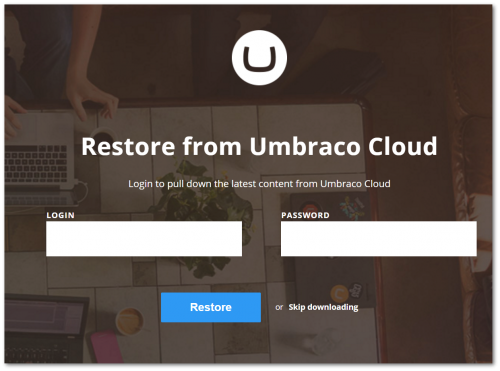 Another really cool thing will happen the first time you try and run your website locally; you'll be asked if you want to download the content of your live website to your local version.  Enter your email and password in the relevant boxes and all your content will sync up.  This feature is really powerful and miles ahead of some of the other CMS systems available.  In this manner, you or a content editor, can work offline.
Installing My Cloud Takeaway
As you can see installing Umbraco is easier than ever. I've been building.NET websites for over 11 years and the simplicity to get a website up and running is pretty amazing.  Years ago you needed to have a good knowledge of Windows Servers, IIS and SQL just to get a site up and running.  You would also need to set-up your own source code repository.  Downloading and uploading your code is done via GIT so it's super simple.  Nowadays, it doesn't take any technical knowledge to get up and running with Umbraco.  You can get a sample Umbraco Cloud account set-up in minutes! Umbraco Cloud has a few more features, but the aim of this guide is to demonstrate how simple and easy it is.
---