How To Create A Page in the Umbraco Backend
Sat 10 December, 2016 / By Jon D Jones
Creating a page within Umbraco is pretty easy and you should be able to get up and running in less than 10 minutes.  Before we start, I should warn you that your Umbraco page structure will look slightly different to mine and the document types that you have access to will be unique to your website.  The general process  of creating a new page will always be the same, so let's crack on.
Creating Your First UmbracoPage
When you first log-in to Umbraco you will be presented with the Content section.  This is where you will manage your Umbraco website web pages.
I'm using the Umazel starter kit in this example.  To create a new page, you first need to decide where you want to create it, this is done via the navigation tree.  Your website will be built-up based on a hierarchy.  Your homepage will be at the top and everything else will be underneath it.
If a page within your website has any sub-pages, a little right-pointed triangle icon will be displayed next to your page on the left of the item.  Clicking on it will display the sub-pages. Clicking on the item itself will load the page in the main content panel.
Creating A Page
First, find the area where you want the page to live.  The navigation tree is built in a hierarchy.  Depending on where you save your page will determine it's URL.  If you created a page called News under your homepage, it's URL would be website.com/News.  If you created another page under News called NewsItem, it's URL would be website.com/News/NewsItem.
To the right of the page where you want to create the subpage, you should see three round dots, clicking on this will load the 'Create' dialog.  In here, you should see a list of page templates you can use to base your web page on.  What you will see here will be unique to your website examples of common templates.  In my site, I'm going to create a basic 'Content Page'.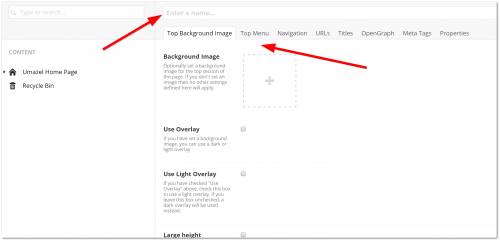 After clicking on the template you want to create, you'll be presented with the 'New Page' panel.  Again, this will vary depending on how your developers have set-up your website.  No matter what template you use, you'll have to add a name for your page.
When you are happy with your page, at the bottom left-hand side of the page you should see a big green button that says 'Save and Publish', as seen above.
Clicking on the publish button will save your page and make it visible on your website.  That's all there is to it.  You've now created your first page within Umbraco!
---