How to install Episerver Commerce 7 on MVC Site in less than 10 Minutes!
Sat 25 April, 2015 / By Jon D Jones
Now that Episerver has pushed everything to use Nuget, installing Episerver commerce is extremely easy.  First, you need to install the Episerver Visual Studio project extension. http://world.episerver.com/documentation/Items/Installation-Instructions/installing-episerver/ This extension will create you a brand new Episerver web project with all the required Nuget packages pre-installed for you.  You need to download Visual Studio extension.  You can create empty or template projects and do custom development on it.
After that you can create your Visual Studio MVC project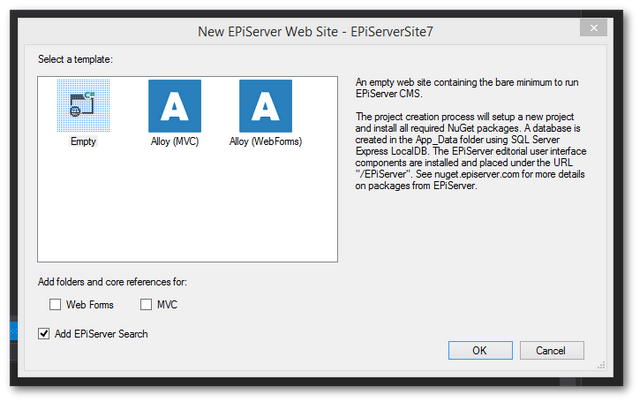 Next, you need to make sure you have the NuGet Package Manager installed with the Episerver feed installed in the source manager, "http://nuget.episerver.com/feed/packages.svc/". first, open up the Nuget settings page:
And Add the EPi Feed.
To install commerce, right click on your solution and select Manage Nuget Packages for the solution, you should see an Episerver feed in the right.  Select it and search for commerce.
Install the feed, build your project and you're done For more information have a look on Epi World http://world.episerver.com/documentation/Items/Installation-Instructions/installing-episerver/
---