Episerver Projects Explained - How To Schedule A Campaign In The Episerver Editor
Thu 15 December, 2016 / By Jon D Jones
Up to this point, we've only talked about creating and publishing a single page.  As a content editor, however, there will often be times when you have a new promotional campaign, a sale, or some big new business announcement that will involve multiple page changes throughout the site, all to occur at the same time. Using the page scheduling feature can work in these scenarios, but it's not ideal.  Relying on scheduled changes will make it hard for you to preview the campaign before it goes live.  If you need to change the campaign start date, you will need to update the scheduled publishing date in many areas.  People will make errors no matter how hard you try and you could end up with content on your website that shouldn't be there. Episerver recognised this need and instead of ignoring the problem, they developed the 'Projects' feature.  'Projects' is the feature you should turn to when you want to schedule multiple things at the same time.
How To Create a Project Within The Episerver Editor
When you log into the editor, in the top left-hand side navigation panel, click the 'Settings' button.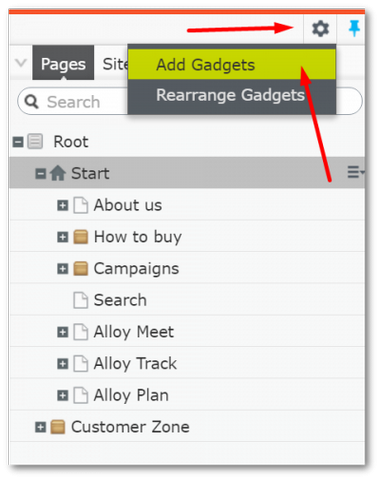 Select 'Add Gadgets' from the 'Settings' dialogue.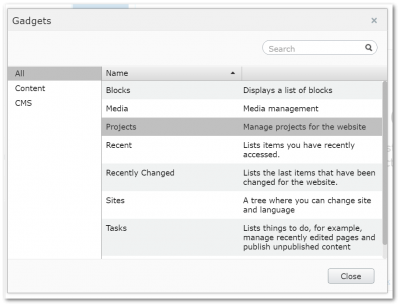 From the 'Gadgets' dialogue, you should see the 'Projects', click on it
At the bottom of the 'Navigation Panel', under the 'Content Tree, you should see a new 'Projects' gadget panel.  This is where you will create and manage your new projects.
Click the 'New Project' button and add-in a name for your project in the 'New Project' dialogue.
In the 'Projects' gadget, you should now see your new project selected and in the main content you should now see 'Drop items here to add them to the project'.  You can now drop pagesetc.. into this area to add them to a project.
In the 'Navigation tree, find a page you want to add to your project and drag it into it.  When you are happy with the changes, right-click on it and select the 'Mark as Ready to Publish' from the drop down dialogue.
When you are ready to have your campaign published, you can click on the 'Publish' button in the projects gadget and click the big green 'Publish' button.
If you don't want to manually publish your campaigns, you can also schedule your campaign so click on the 'Schedule Project for Publish' option in the Projects Publish dialogue.  Enter a date and sit back and let Episerver schedule the content for you.  Your campaign should now be published!
---