How To Host Your Umbraco Websites
Thu 23 June, 2016 / By Jon D Jones
After playing around and trying out Umbraco for yourself, you will inevitably get to a point where you want to build and host your own website online. In today's guide, I'm going to talk about hosting companies that support Umbraco hosting and go over the steps to get your site online.
What Type Of Hosting Should I Use?
When it comes to hosting an Umbraco website you have several options available to you:
Shared
Semi-dedicated
Dedicated
Shared Hosting
In a shared hosting set-up you will have your Umbraco website hosted on a server with x amount of other servers. As you share a server these hosting options are usually the cheapest. When I started this blog online I went with shared hosting. If you have low traffic then this is ideal and the hosting option I would recommend. The problems with shared hosting is the issue of sharing resources with other people. If one of the other websites needs an upgrade, or an IISRESET then your site will be affected as well.
Semi Dedicated Hosting
A semi-dedicated server package is where you share a server with 3-5 other websites. Usually, a semi-dedicated package will come with more bandwidth, storage space etc.. options and will be more expensive than a shared hosting plan. Most hosting plans allow you to switch/upgrade from shared to semi-dedicated, so if you aren't sure, I would recommend picking the cheapest until you need to upgrade. When this site reached 5,000+ unique visitors a month it started slowing down a lot. I also had a few outages where the server was being worked on, as new websites were being added, or removed and I found it to be quite glitchy at times. It was at that time I moved and I definitely found my site worked quicker and had a better uptime percentage.
Dedicated Hosting
This is where you pay for a server outright. Most enterprise level companies will use dedicated hosting. If you have a lot of traffic and your websites making you money then this is the option to go for. You get much better up-time again.
Which Hosting Company?
I host all of my personal Umbraco websites on a shared hosting account with
www.arvixe.com
. Arvixe are one of the few companies that do specific Umbraco hosting plans. With Arvixe you can host up to 6 domains, you get one domain for free and all for $5 a month. I was normally put off by .NET hosting but for the price and reliability then would I suggest you do the same. Registering an account is pretty simple:
Click the link above to go to arvixe. Select the 'Sign Up' button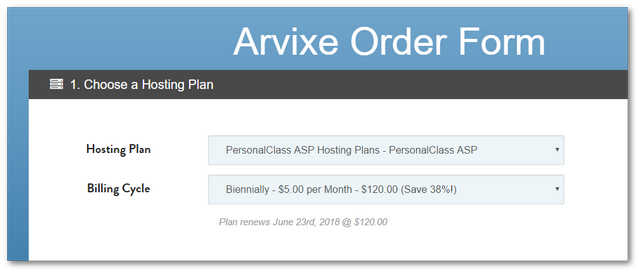 Select your hosting package options, if you go regular and pay monthly it will be $5.
Add in your domain name details
Add in your contact and payment details.
Add any additional extras. The google AdWords vouchers are free so you may as well add them. That's it, all you need to do is click 'Place Order'. Once your order is processed you will be sent the login details for your hosting by email. When you have the email you are ready for the next step, installing Umbraco.
---