How To Create Your First Form With Umbraco Forms / Contour
Thu 28 July, 2016 / By Jon D Jones
In today's guide, I'm going to cover the process of creating your first form using Umbraco Forms / Contour. In this guide, I'm assuming you have already installed Umbraco Forms / Contour. If you haven't and need an overview of the process then I suggest you read, An Honest Review Of Installing Umbraco Forms / Contour For Umbraco 6
Creating A Form
In the Umbraco backend open up the Contour dashboard, by clicking on the 'Contour' icon.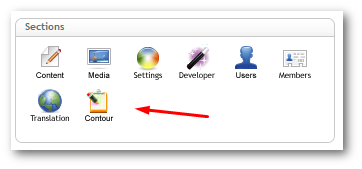 You can create a form straight from the dashboard
In the create section, add in the name of your form, e.g. 'Main Contact Form' and hit create.
This will take you to the form editor. This is the area where you will create and customise your form.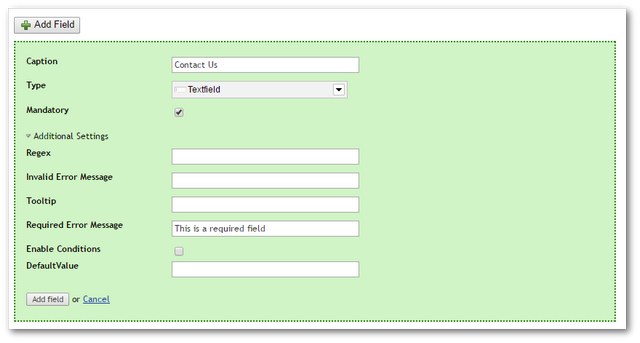 In here you can create and order fields to make up your form. A field can either be :
CheckBox
CheckBoxList
DatePicker
DropDownList
File upload
HiddenField
Password Field
RadioButtonList
Recaptcha
Textarea
Textfield
For each field you can add different properties to it like:
Caption
Mandatory
Regex
Invalid Error Message
Tooltip
Required Error Message
Enable Conditions
DefaultValue
I create a simple form with an email address, message and a captcha, like so: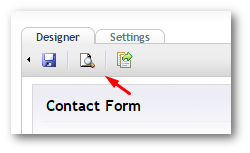 You can preview what the form will look like, using the preview button. Before you add the form to your website you probably want to set the email address the form will be sent to. If you click the workflow button in the toolbar the workflow screen will open:
The default workflow will use the email adress you registered against the logged in account. If you don't want to send an email you can also get the form to do things like:
Perform filtering
Post as xml
Post form to url
Save as file
Save as umbraco document
Send email
Send xslt transformed email
After you have your form set-up and the workflow to send, store, or save your file. The last customisation you might want to do is in the 'Sections' tab.
Disable default stylesheet
Mark fields as mandatory, optional fields only
Set the required error message
Set the Invalid error message
Show validation summary
Hide field validation labels
Probably the most useful option in 'Settings' is the option to decide where the user will be re-directed on from submission. Contour provides a lot of customisation options after you have configured your form, how you want the next step is to display it on a page.
Displaying a form on a page
In the backend go to the 'Content' section and navigate to a page you want to display a form on (NOTE: The form will need to have a TextArea)
In the textarea you want to display the form, in the TinyMce toolbar click the 'Macro' button.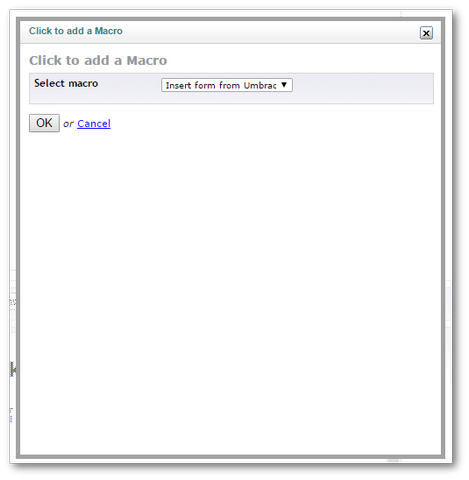 From the 'Add Macro' dialog, select 'Insert Form From Umbraco Contour'
From the 'Insert Form' dialog, select the form you created above.
After saving the page, you should see a preview of the form in your content area. If you click the preview button you should now see the form appear on your site ready for testing: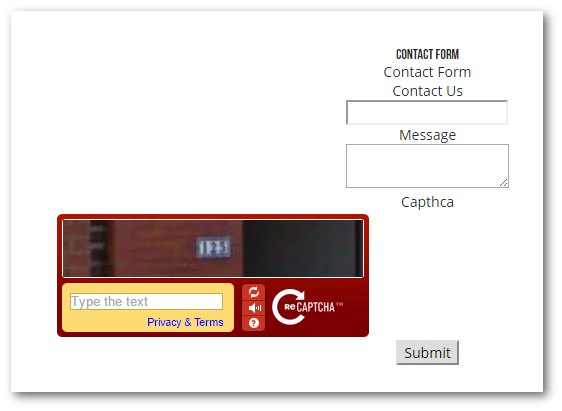 My website obviously needs styling, but the steps above show how versatile and easy it is to start displaying Umbraco forms onto your website.
---