How To Debug Your Umbraco Website Using the Health Checker
Sun 8 January, 2017 / By Jon D Jones
If you are using Umbraco 7.5+ you can use the 'Health Check' to check that your website is configured correctly.  Historially, to check your Umbraco configuration, you had to manually validate that your web server had the correct configuration.  For example, if you run Umbraco in a load balanced environment, then this involves remoting onto each server to check.  Instead, the 'health check' tool, is an automated tool that will check 5 key areas of your Umbraco website to ensure everything has been set-up and configured in an optimal way for the production website.  The five areas included in the 'health checker' , are configuration, Umbraco data integrity, live environment, permissions, and security
HEALTH CHECK
To run a health check open the 'Development' section in the Umbraco Backend.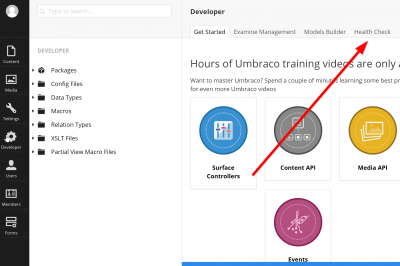 On the main '
developer
' page you should see the '
Health Check
' tab, as seen above.

Clicking on the '
Check All Groups
' button will run all the searches, alternatively, you can run each search separately.  The health check will make sure you have things like permissions set correctly, you don't have the web-site running in debug mode etc..  If your site passes the check, you'll see a green tick within each area.  If you haven't configured Umbraco correctly then you'll see a red cross.  Fixing issues is also pretty easy, if any of your checks fail, you'll see a 'Fix' button next to the failed test,  In most instances, the error can be corrected by simply clicking the fix button. Obviously, depending on your hosting environment and deployment process, you need to be careful that any changes you make on production, gets copied back into your source code repository.  You don't want to do a release after fixing your website, only to lose all the changes!!!
---