The Sitecore Gutter Explained
Wed 18 May, 2016 / By Jon D Jones
One cool feature of Sitecore is the ability to customise it to suit your needs. One often overlooked feature in Sitecore is creating custom gutters. Now, a gutter isn't something you wake up in after a 10-day binge drinking session with your friends, but a way to place a little icon next to your Sitecore content items to provide feedback to content editors to make their lives easier. Sitecore gutters can be a very useful way of providing a quick summary of an item within the tree. Out of the box, Sitecore comes with a few default items you can add to the gutter, this includes Locked Items, Workflow State, Missing Version and Presentation Overridden. If you open up the Sitecore editor and open up the content tree, on the left-hand at the side of the navigation pane you should see a grey/blank menu. If you right click on it, you should see a list of options you can add to the gutter: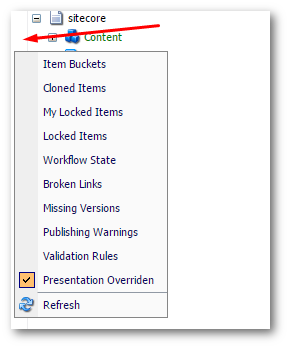 If you enable the 'Presentation Overridden' option for example and look back in your content tree, you should notice some new icons displayed against certain items. The Presentation Overridden gutter item, when enabled, will display an icon next to any item that does not have the standard presentation settings from the items selected template: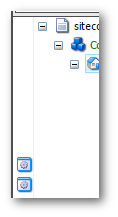 Another cool feature about Sitecore gutter is that it's easy to build a custom gutter. In the next tutorial, I'm going to create a custom gutter that will display the published statement against items. This can make the life for content editors a lot easier, as it can be quite tricky to remember what needs publishing and what doesn't.
---