How To Get The Url for a Content item within Sitecore
Fri 29 April, 2016 / By Jon D Jones
Working with content in Sitecore can be tricky at times, especially if you are working with content a long way down the content tree. Making content editors lives easier is one of the key aspects of implementing a successful web project. One of the biggest frustrations I find about the Sitecore editor is not being able to easily view the live page of an item. In today's guide, I'm going to cover some ways to make your content lives easier by providing a one-click solution to get the live Url for a page.
Item URL Helper
The first option is to use 'Item URL Helper'. Item URL Helper is a free Sitecore module that you can install. After installing it, when you right click on any bit of content under the 'Content' node, you should see a new context menu option.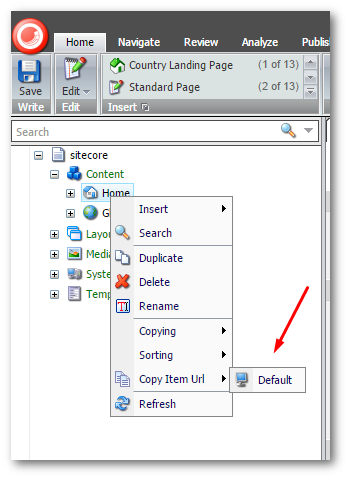 To retrieve a URL, right click on a content item and you will be shown a dialog box containing the Url.
Just in case you don't know. simply hit Ctrl & C to copy it. Trying to highlight the text won't work :P As more of the world turns towards responsive design, different layouts for different devices seem to become less popular. However, if you have multiple devices, you should see an option for each device in the context menu selection. You can get a hold of 'Item URL Helper'
here
.
What Does It Install?
After installing the module I had to do some work to improve a client's deployments, so I thought it might be useful to list the files that get added to your project, after installing the module:
App_Config\Include\ItemUrlHelper.config
bin\Velir.SitecoreLibrary.dll
bin\Velir.SitecoreLibrary.Modules.Contextualizer.dll
bin\Velir.SitecoreLibrary.Modules.ItemUrlHelper.dll
---