How To Setup TDS With Package Deploy
Tue 19 July, 2016 / By Jon D Jones
In today's guide, I'll be talking about setting up TDS with package deploy. Package deploy can be a good alternative when you have limitations around your build server, or you work in a very locked down environment. Instead of automatically deploying content, you can create a Sitecore deployment package that can be run on the server in question. If you are new to TDS I would recommend reading, Installing And Configuring TDS For Sitecore to make sure you have everything configured correctly.
Package Deployment Prerequisites
First, you need to make sure that you have your build configurations set-up for each of the environments that you want to create packages for; you will need to fill in the associated 'Build' configuration.
After creating your TDS project in your solution, right-click on it and in the context menu, select properties and go to the build tab.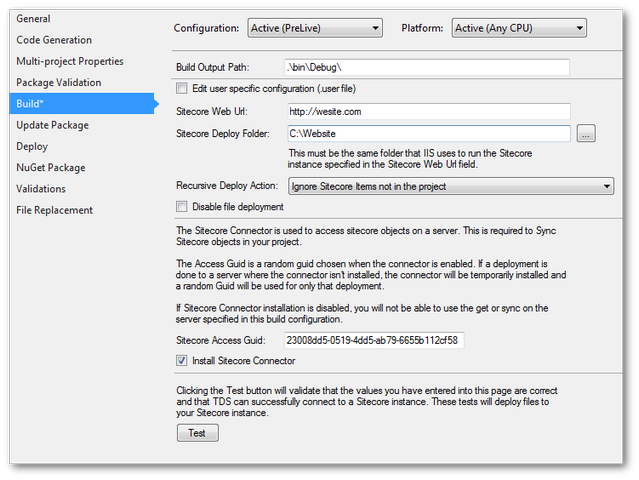 From the build configuration, you will need to set each build configuration tasks. In the top 'Configuration' dropdown, select your environment (out the box Visual Studio will ship with 'Debug' or 'Release'. In here, you need to enable the 'Install Sitecore Connector' and then add in the 'Sitecore Url' and the 'Deploy Folder'. As you are creating packages rather than a build, in most instances I would assume this location will be on your local PC with the correct host headers etc.. set-up> You will need the 'Test' button to pass before you can proceed.
Configure A Package
In the TDS properties, go to the 'Update Package' tab.
For each environment, you want to create an update package so you need to select it from the configuration dialog. You might for example only want to use packages in the live environment and use a push onto test and authoring for example. To enable TDS to generate a package, tick the 'Generate package during build' checkbox. I prefer to get TDS to append a daytime on the package to make it easy for tracking, so I also tend to tick the 'Append the current date and time to the package name' option. The last bit to get the deployment working is to point TDS to a folder on your machine that contains some Sitecore assemblies. TDS needs the assemblies in order to work (you can get these from a blank Sitecre instance install). The assemblies you will need to include are:
Sitecore.Kernel.dll
Sitecore.Logging.dll
Sitecore.Update.dll
Sitecore.Zip.dll
Creating A Package
This is the simple bit. With the appropriate build configuration set in the visual studio, build your solution. In your TDS projects bin folder, you should see a matching folder name for your configuration, so if you created a 'Debug' release, there will be a 'Debug' folder. If you look in here you should be able to see the update package:
Installing A Package
To install a package you will use the upgrade wizard. To open the 'Update Installation Wizard' add '/Sitecore/admin/UpdateInstallationWizard.aspx' after your website name (make sure that you are logged in) like so:

http://local.website.com/sitecore/admin/UpdateInstallationWizard.aspx

Use the installer to upload the package and install it.
Job Done!
---